Something I am often asked
How do they make their pictures? What is the technique called?
Scratchboard (scratchboard, scraperboard, scratch pictures) is a graphic technique where the picture is created by removing and not adding colour. Usually you have a white base plate which is covered with black ink. This ink is now removed with a sharp tool – scratched out.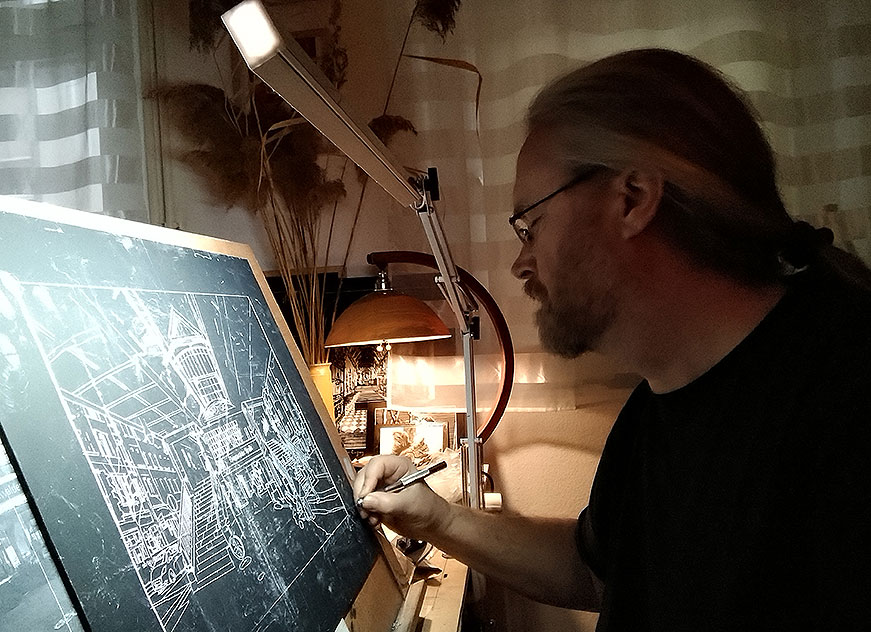 What kind of materials do they use?
For a start I recommend the cards from "Melissa and Doug". They are relatively inexpensive and can be processed well.
More expensive and of higher quality are the boards from Ampersand. In Germany they offer Kunstpark and Peters Art.
The boards are very stable 3 mm hardboard, coated with a layer of kaolin (porcelain clay). This allows very precise work and even corrections with black ink and coloring.
However, a board 40×50 cm already costs over 20 €. A bit difficult to get started.
For scratching Ampersand and co like to offer tools. But I recommend the normal XActo scalpels. There are interchangeable blades and you can use different blades for different strengths. You can also experiment with wire brushes, steel wool and tattoo needles.
And of course a white crayon for the preliminary drawing or transfer paper for the transfer of originals
How long does it take them to finish their pictures?
The time from placing the plate on the easel to finishing by the final varnish varies from two hours for very small, simple pictures to five working days for very large and elaborate works.
This does not include the conception time. This includes photographing, viewing and editing the raw material and coming up with ideas about what to do with it. There are certainly one to five hours per picture to be added.
How much are the pictures?
The price is between 30 € and 1000 €. You can see them in the OnlineShop. If you like a picture, but the price does not suit you, talk to me – maybe we will find a solution.
Do you also do commissioned work? What does it cost?
Yes I do. Commissioned work costs at least 500 € and is calculated according to the respective effort. Just ask me for a non-binding offer.
Can one visit you in your shop/studio?
I do not have a shop and work at home. But yes, if you want to buy an original or discuss an order with me, you can visit me in my studio. Ask me for an appointment!